Wrockers Wrap Around Care (WWAC)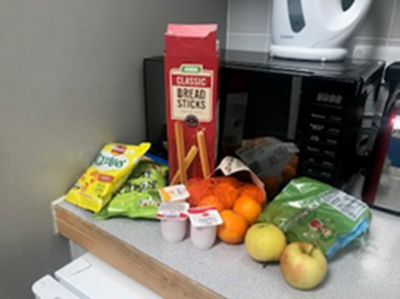 Mrs Brayne and Ms Doody
We have now launched our wrap around care provision which is being used daily by a number of parents.  This provision is managed by Mrs Tracey Brayne who is also one of our established teaching assistants. Miss Michelle Doody is our newly appointed wrap around care assistant. We hope that this provision will support all parents by providing a quality wrap around provision both before and after school. Mrs Jenny Perkins (School Business Manager) will be sending out repeat booking forms (for those who have previously attended) each half term for parents to complete and submit with payment in preparation for the following half terms provision. Children MUST be booked in and paid for before using this provision. Please DO NOT just arrive at school or assume we have a place for your child as this will not have been factored into our arrangements for that day.
In the event of an emergency, or if you are delayed collecting your child, please call the school office and we will make arrangements for your child to be added to the register for that day. They will incur a cost for the time they are in the club. This will enable us to purchase food and ensure necessary staffing is in place. Both breakfast and after school club will be run from the Classroom on the right-hand side of the car park. Within the wrap around care provision children will experience a wide range of fun activities including games, sports and crafts.
Breakfast Club
Breakfast club will run from 7:30am to 8:45am at a cost £2.50 per session. Pupils should arrive between 7:30am and 8:15am. Any child who arrives before 8:00am will be offered breakfast. Breakfast will consist of a drink of squash and either cereal or toast.
After School Club
After school club will be split into two sessions. Session 1 will run from 3:20pm to 4:30pm at a cost of £3.50 per day. Session 2 will run from 4:30pm to 5:30pm and also at a cost of £3.50 per day. Any children who stay for session 2 will be offered a healthy snack. This snack will be fruit, biscuits, crackers and spread or similar. After school club will close at 5:30pm and any children who are picked up after this time will incur a penalty charge of £10. Failure to collect your child on time may result in the place being withdrawn.
Booking forms are available at the bottom of this page or from the main entrance and payment and booking forms will need to be received 1 week in advance. Once booking are made and paid for this cannot be cancelled or refunded as we have to give our staff prior notice of when they will be working. 
We look forward to welcoming your children to our wrap around care. 
click here for breakfast club booking form March & April 2022
click here for after school club booking form March & April 2022
click here for breakfast club booking form April & May 2022
click here for after school club booking form April & May 2022